Venerdì, 17 Settembre 2021
Notizie -
Eventi
Giovedì 21 Settembre 2017 20:45



"Sergio Davì successfully comes back at Genoa Boat Show"
The team leader of the Ocean RIB Experience shows his Master 996 agosto Suzuki corner
After the world great success of the "Ocean RIB Experience – transoceanic by RIB", accomplished last 17th June in Recife, Sergio Davì successfully comes back at Genoa for the 57th edition of the boat show, from 21st to 26th september.
The master of expedition will be at Genoa for all days of the boat show as testimonial for Suzuki, Simrad and Master.
The rib Master 996, alias Nemo, will be show insidie of Suzuki area, in the center of B pavillion, where Mr Davì will be glad to share with partners and visitors images and stories of his "Atlantic Dream" that came true.
Many scheduled meetings with the leader of Ocean Rib Experience who will introduce his team and will feature as special guest for some sponsor and official partner: Friday 22nd september at 11.30 and Saturday 23rd september at 12.30 at Navico corner (pavillion B upstairs, corner Y6).
Furthermore, you can also meet Sergio Davì at Master, at pier C.
Ocean RIB Experience was started from Palermo last 29th april to accomplish on 17th June in Recife (Brazil), after 4300 nautical miles and 49 days of journey (stops included). Mission accomplished by two men on board of a Rib Master 996 powered by two Suzuki DF200AP.
For more details:
www.oceanribexperience.it
- Facebook page "Ciuri Ciuri Not only adventures".
#oceanribexperience #sergiodavì #suzuki #mastergommoni #simrad #salonenauticodigenova
Press Room
Ciuri Ciuri Mare
Dionisia Bellavista
Mob. +39 342 5692902/ +39 329 8362984

Questo indirizzo e-mail è protetto dallo spam bot. Abilita Javascript per vederlo.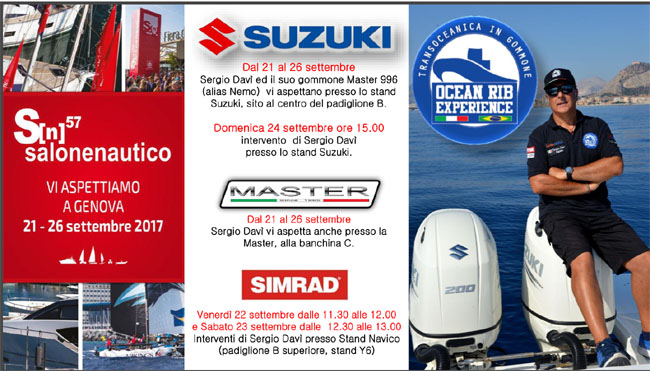 Aiutaci ad informarti meglio visitando il sito:
www.rivistalagazzettaonline.info
Ultimo aggiornamento Giovedì 21 Settembre 2017 21:14